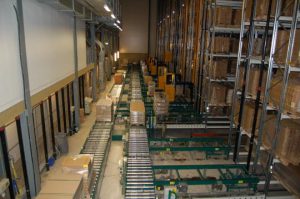 What are some of the recent advancements in inventory management? What are some of the more important movements within the mobile device market that help make these advancements possible? More to the point, what software and hardware advances have changed how companies manage inventory? When looking to answer these aforementioned questions, one only needs to look at the advancements made by Psion with its Omnii line of mobile devices or with Honeywell and their IntelaTrack PKS devices. So, what is special about these mobile product lines?
Both companies focus on a simple approach to mobile devices. They concentrate on reducing the risk associated with obsolescence and empower their customer base to modify these rugged handheld devices to fit their business model, their needs and their market. It's a solution focused on a modular approach to mobile devices, one where customers can extend their return on investment by extending the life cycle of these mobile handheld computers. However, while each of these mobile devices sounds impressive, one can only truly appreciate their value when assessing how they improve information management. So, what do these products mean for companies looking to upgrade their operations? Ultimately, how do these devices improve how companies manage their business?
Elimination of manual processes:
Both of these aforementioned devices eliminate any need for manual data entry on remote customer locations. Project managers can finally do away with paper check sheets to track production and reconcile manual labor logs. Instead of manually entering production volumes on paper, transferring it to an excel spreadsheet and then waiting for someone to reconcile those volumes, companies today can do all of this in a fraction of the time with rugged handheld devices. That not only saves time, it saves money!
Improvements in point-to-point communications:
The overall window of operations has also grown with today's mobile devices. Field service technicians, project managers and salespeople can travel further then they have in the past and still be able to record precise, up-to-the-minute information. In addition, they can access any information available to them back at the head office, without having to call, wait for confirmation and then hope that information is correct. Today's rugged mobile devices are built better than they've ever been built before. They last longer, provide better information and reduce costs.
RFID bar code scanners are durable and reliable:
Supplying proven rugged mobile devices is one thing, but ensuring that RFID barcode scanners are equally as rugged, is something else entirely. Today's barcode scanners are built to last and to work in all kinds of environments. They are strong, durable and made to operate in the most severe of weather conditions. Today's product offerings allow project managers, technicians and sales professionals on remote customer locations, to immediately reconcile onsite inventory and equipment. Again, this saves time and money.
Today's enterprise mobility solution providers have responded to their customers' concerns about obsolescence. They've modified their product lines to allow their customer base to benefit from modular approaches to handheld computers. Customers can customize their needs to fit their market, industry and unique applications. They can benefit from more rugged devices, ones that are built to match the speed of today's business decisions. Finally, they've updated all their product lines to not only be more flexible, but more durable as well.