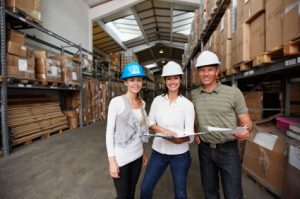 How can upgrading to an inventory management software platform reduce the costs associated with inventory audits? In order to answer this question, think of how time-consuming, redundant and repetitive the dreaded inventory audit can be. Think of how much it costs to perform these audits and the frustration you encounter when uncovering inaccurate inventory levels and counts. At the end of every quarter, and every fiscal year, employees manually count inventory in order to reconcile actual inventory against what is reported on the "books". Some companies force their employees to give up their weekends, while the vast majority must cover overtime to perform what most agree is a mundane task. It is both time consuming and costly. However, it need not be this way!
Upgrading to enterprise mobility software can make manually counting inventory, and reconciling inventory counts, a thing of the past. This in turn makes inventory audits a much simpler process. Not only will it save your company time, but it will reduce costs, improve how you manage your warehouse and improve your overall approach to how your company manages its supply chain. It's not merely about eliminating the time needed to perform a more accurate audit, but ultimately about lowering costs and improving how your company manages inventory. Some of the immediate benefits of upgrading to an enterprise mobility platform include the following.
Lower expenditures:

Bar-coding inventory makes tracking inventory levels a much simpler task. More importantly, it ensures a more accurate inventory count. With enterprise mobility solutions, you've essentially done away with the high costs associated with data entry errors predicated on manual processes. Instead, your entire system is intertwined and more easily accessible. From generating a purchase requisition, receiving the shipment and verifying volumes, nothing is left to interpretation. It's transparent and accurate.

More accurate inventory counts:

How important is it to upgrade your warehouse management with mobility management solutions? More importantly, how does it lead to having more accurate inventory counts? When answering these questions, think of how easy it is to manage inventory when you can measure that inventory at a granular level. Ultimately, it's the difference between overextending your purchases by buying more than what you need, or buying only what you need and retaining more capital on hand. This not only affects your cash flow, but it also affects your gross profit and your bottom line.

Lower financing costs:

Enterprise mobility solutions help lower your company's overall financing costs by providing more accurate reporting. Inventory costs money and if your company can successfully reduce your cost of capital, then it will translate in a higher gross profit on sales transactions. It's not uncommon for companies to hold onto inventory for extended periods, inventory they weren't even aware they had. This happens with manual processes. It doesn't with the right enterprise mobility solution.

Auditing inventory will always be a part of proper warehouse management. However, that doesn't necessarily imply that inventory audits must be done manually. Today's businesses are able to save a considerable amount of time and money when they do away with manual counting methods. That comes from using an enterprise mobility solution that links your entire network into one cohesive unit.