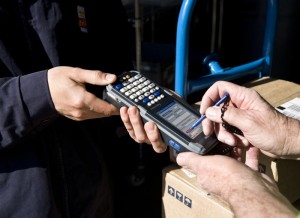 Does your enterprise currently rely upon vendor managed inventory? Do you view your vendor relationships, and agreements, as pivotal to your supply chain and the long-term success of your enterprise? More importantly, have you come to rely upon vendor managed inventory agreements in order to reduce monthly carrying charges for your company? If you have answered yes to each of these aforementioned questions, then you understand full well how important it is to have access to immediate information about raw material, part and finished good availability. It is this access to vendor data that is of vital importance to ensuring that your agreements are properly managed. Upgrading to enterprise mobility hardware will make managing these agreements a much easier process. In essence, it will simplify how vendor data is transferred to your company and allow your procurement department to make better, more informed decisions.
Electronic data transfer is key in vendor managed inventory and nothing is as impactful as upgrading your supply chain with mobility management solutions. So, how can upgrading to enterprise mobility solutions help your procurement department better manage vendors and ultimately, lower costs across your entire supply chain? We'll answer this question by first defining what constitutes a vendor managed inventory agreement. Next, we'll explain why upgrading to handheld rugged mobile devices will help your procurement department better manage vendors.
Vendor managed inventory
Vendor managed inventory agreements are predicated on maintaining a predetermined safety stock level at the vendor's location. This safety stock must be maintained at all times in order to mitigate the customer's inventory carrying costs. The benefit for customers is that they are able to reduce their freight costs on incoming parts, all the while reducing the high costs associated with damage and obsolescence.
For vendor managed inventory to truly be a success, both vendor and customer must maintain their own appropriate safety stock. For instance, let's assume the vendor is responsible for maintaining a quantity of finished goods equal to 40 units. The customer makes release of 15 units and the vendor then ships those 15 units directly to the customer's location. Once that release of 15 units is made by the customer, the vendor immediately replenishes the finished goods inventory back to 40 units. This means the vendor must not only have the finished goods ready, but must also maintain enough semi-finished and work-in-process inventory to replenish the previous shipment. In turn, the customer must also maintain a safety stock amount in order to account for sudden increases in demand. The question now becomes, what is the value of upgrading to enterprise mobility solutions and ultimately, what does it mean for those enterprises relying upon vendor managed inventory agreements?
Immediate access to part availability
Properly managing these agreements means your procurement department must have insight into all inventory categories at your vendor's facility. Upgrading to handheld mobile devices means your procurement department can gain immediate insight into current inventory levels. Decisions can then be made against how and when to make future releases.
Improved sales and customer service
Sales and customer service are better able to provide status updates on existing orders and most importantly, can provide customers with instant feedback on future demand requirements. This same data can be provided to the company's sales department, allowing them to anticipate customer demand and close on all opportunities. After all, vendor managed inventory helps companies sell product faster, without concern of the high financing costs of holding product themselves.
More accurate usage information
Bottom line, managing these types of agreements requires that both vendor and customer are on the same page. When you know exactly how much inventory is ready to ship, and the quantities available to support future customer demand, then you are always in control. In addition, upgrading your procurement department with mobile computers means your entire operations are upgraded. Any increase in customer demand is easily addressed and business cycles are more easily managed.
Vendor managed inventory works when companies have the ability to gain information on vendor inventory levels. That requires instant feedback and a proactive approach to managing all inventory categories at the vendor's location. When your procurement department has rugged handheld computers, they can immediately access vital vendor data and share that information with the entire company. It's not merely about upgrading how your procurement department manages its vendors, but ultimately about upgrading your entire operations. Do this and your company will truly benefit from what vendor managed inventory has to offer.