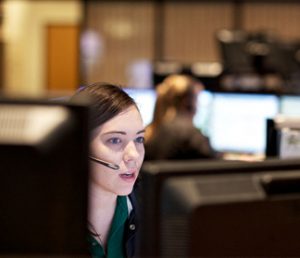 How could anyone try to link enterprise mobility solutions with how a company manages customer expectations? What does one have to do with the other? After all, what possible role could your enterprise mobility hardware play in better managing customer expectations? When looking to answer these aforementioned questions, think of how important it is to provide your customers with timely answers. Think of how much better your company can serve its customer base when your salespeople, field service technicians and project managers all have access to rugged mobile computers, computers that can provide your customers with instant updates on order fulfillment. Think of how these mobile computers will distinguish your product and service offering within your market and amongst your customer base. Now think of how your competitors likely don not have this ability. Not only will it help better manage customer expectations, but it will position your enterprise as a market leader.
When you stop and think about it, managing a customer's expectations is perhaps the most essential aspect of success. As is often the case, a customer bases their decisions about customer service on prior experiences. These experiences mean customers will have already determined how your enterprise should service them. In essence, they want immediate answers, timely updates and advance warning of any possible delays on existing orders. Can upgrading your enterprise mobility solutions help in this manner? Most definitely! Will it distinguish your company? It will. Finally, will this capability help your salespeople close orders sooner? Absolutely! So, what are some of the examples of how this might work?
Updates on order fulfillment: Imagine how impressed your customers will be when your sales team is able to use their handheld computers to provide immediate updates. No calling the office. No waiting uncomfortably while the customer sits there concerned about their order. No losing the customer's confidence in your company. Instead, the customer gets the answers they need to make decisions affecting their business.
Material and part availability: Providing updates on order fulfillment is one thing, but salespeople must be able to capitalize on sales when the opportunities present themselves. In a number of cases, those opportunities occur right at the customer's location, when they need immediate status on part and material availability for an urgent requirement. Your sales team can provide that information immediately. This positions your enterprise as the market leader and one that is able to move your customer relationships to partnerships.
Stronger cohesion between sales and customer service: Customers are most impressed by enterprises that have strong cohesion between sales and customer service. This cohesion exemplifies the company's customer service capabilities. Regardless of whether it's your sales team, your service technicians or your project managers, each of them can convey an image of being ready and willing to service when they have mobile handheld computers.

Your entire team can provide customers with instant approval on all things customer related. How does this differ from the service offered by your competition? Make sure to answer this question by empowering all your field personnel with handheld computers. It will allow them to better manage their customer's expectations and better manage the situation in front of them.