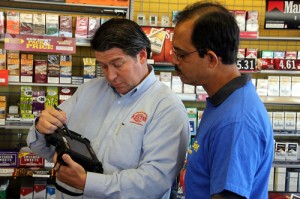 Can upgrading your enterprise mobility solutions help improve company sales performance? Can your sales team close more orders when they have access to rugged handheld computers? Are your customers more likely to make purchase decisions when your sales team is able to give them everything they need? When answering these questions, think of how salespeople sell. Salespeople are most effective when they have all the information they need to close orders. They need information on material and part availability. They need information on credit terms, freight costs, scheduling and most importantly, pricing. This vital information is intrinsically linked. Part availability often has an impact on pricing, and it definitely has an impact on freight. Some customers may need those parts next day, while others can afford to wait. What customers can not afford is to not have this information. So, if having this information is so important to closing sales, then can having mobile computers help your sales team close more orders? It most certainly can! What are some of the scenarios where customers are more likely to place orders when salespeople can provide instant updates via mobile devices? Consider the following example.

Closing more orders with handheld computers
Let's assume your enterprise focuses on having its salespeople work with customers onsite. Let's assume these customers base their production schedules on their vendors' ability to meet their time sensitive material requirements. These customers have dozens, if not hundreds, of possible vendors. Each of these vendors tries in their own way to secure business. Each of these vendors is vying for time. Each pushes their product and tries everything they can to keep that product visible in the market. What distinguishes these vendors from one another? More importantly, what distinguishes your company from these vendors? To answer this question, think of how your enterprise must match the speed of your customer's business. Think of how your salespeople must be able to match the speed of the decisions made by your customers. Finally, think of how your industry's typical decision makers need immediate information in order to make decisions. While your vendors promise to get back to your customers with answers, your company can provide those answers in real-time and that speed will definitely distinguish your enterprise from the rest of your market. More importantly, it will help your salespeople close more business.
When thinking of the aforementioned example, think of how your enterprise will be able to alleviate your customer's stress when your salespeople can provide them with immediate updates. Closing business is about distinguishing your product offering by accentuating your company's core competencies. If your company sells "me-too" product lines, or is involved in commodity based sales, then the only distinguishing factor will be your enterprise's ability to provide timely information. Even if your company isn't selling a commodity, it's still essential that it distinguish itself from its competition by how fast its sales team is able to respond to customer requests. Manual processes can't do this, but handheld computers can.